These incredibly simple cleaning hacks will save you tons of time, money and nerves! Check them out and see for yourself! 🙂
Buff surfaces with olive oil
Olive oil has many nutritional benefits (and can possibly increase longevity). Turns out it can also help you clean the house.
"Olive oil is a great option for cleaning stainless steel, such as pots, pans, and appliances. Put olive oil on a soft cloth and rub in a circular motion to buff out any dirty spots.
Use Kosher salt and lemons to clean your chopping board without leaving any chemicals
Use baking soda and vinegar to unclog your sink
You can use this old science fair standby to fix a sink that's draining slowly.
Dust window blinds with old socks
"Blinds often have multiple sides and shapes, so they can sometimes be a hassle to clean," Stapf notes. "With this simple and kid-friendly hack, it doesn't have to be! Take 50/50 vinegar and water mixture with an old clean sock, swipe the sock over each section and the embedded dust and dirt will come right off your blinds."
Easily clean shower scum
Cleaning the bathroom is not how most people want to spend their day, but it has to be done! The good news is there's an easy way to remove soap scum and grime that's building up inside the shower.
Fill a dish wand with half vinegar and half dish soap, then get to scrubbing! You can also use an old sponge or toothbrush and just dip it into a cup of the same solution.
Clean And Deodorize A Microwave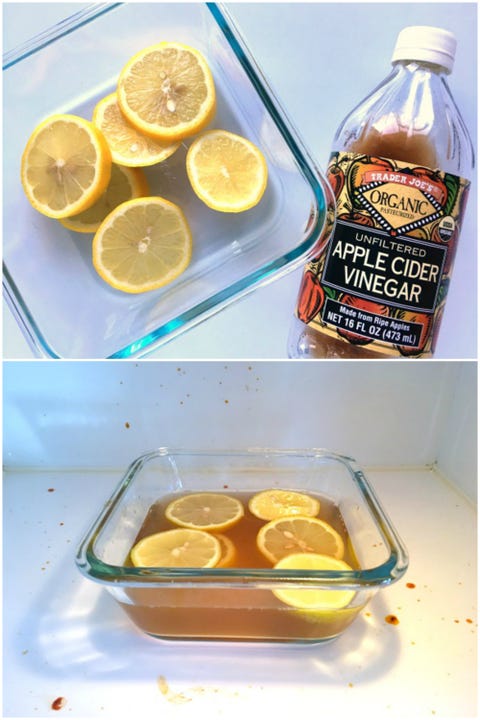 Splattered food and pungent dishes can leave your microwave a mess. This simple hack combines everyday household items to restore your go-to appliance.
Play dough can be used to remove spilled glitter
Use toothpaste to clean sneakers
All you need is an old toothbrush and a little toothpaste to get the white parts of your sneakers looking like new again!
Remove Pet Hair with Duct Tape
That's right. We've found another use for duct tape—cleaning. The stickiness of duct tape makes it perfect for a makeshift pet hair remover and this method is faster than vacuuming. It also works on seats in vehicles. A sponge or cloth wrapped with duct tape works great for getting into corners. Wrap duct tape around a paint roller cover, sticky side out. Roll the paint cover over furniture or carpet to pick up the pet hair. Add more tape as the surface gets full of hair.
Clean Your Shower Head
If the water in your shower is spraying out in all directions, it's probably time to give it a deep clean. Mix a solution of equal parts vinegar and water, then pour it into a plastic bag and wrap it around your water source (as shown here by The Melrose Family). Let the solution sit for 15 to 20 minutes, then remove and rinse.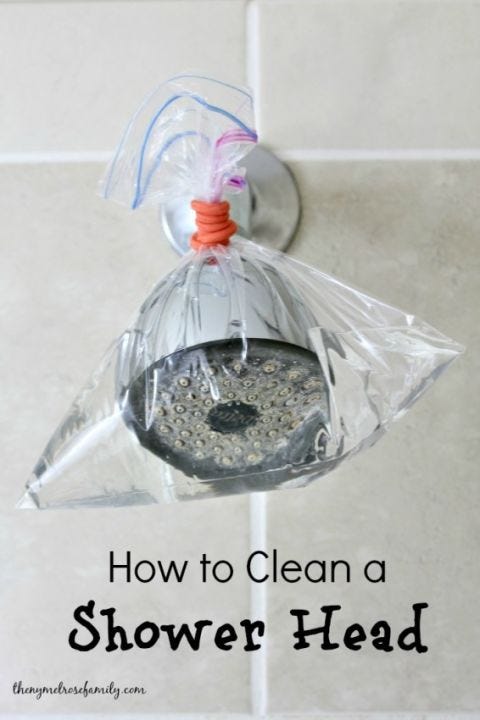 Your coffee grinder can be smell free if you just grind some uncooked white rice in it
Iron out stains in carpet
Clean your stove top with hydrogen peroxide and baking soda
Dust electronics with coffee filters
"Coffee filters are useful items to keep around your living room and office, not only in the kitchen," says Stapf. "They are perfect for clearing dust from TV screens, computer monitors and any other screens around the home, without leaving behind any fibers like towels do."
Clean your sponge
Sponges can pick up a lot of bacteria, especially if they're left in the sink. You want to make sure you clean them frequently.
It's so easy: Just pop the wet sponge in the microwave for 30 seconds to remove any bacteria! Just wait a minute or two before pulling out since it'll still be hot.
You can also put your sponge in the dishwasher to get it nice and clean again!