Check out our list of 21 Bathroom Decor Ideas to give your bathroom a fresh new look!

Touch of Greenery
A lush plant, a colorful rug, and unexpected window treatments make the bathroom feel as decorative as the rest of the house. Try a small potted orchid or asparagus fern in a corner (either will thrive in humidity) or reach new heights with a fiddle leaf fig.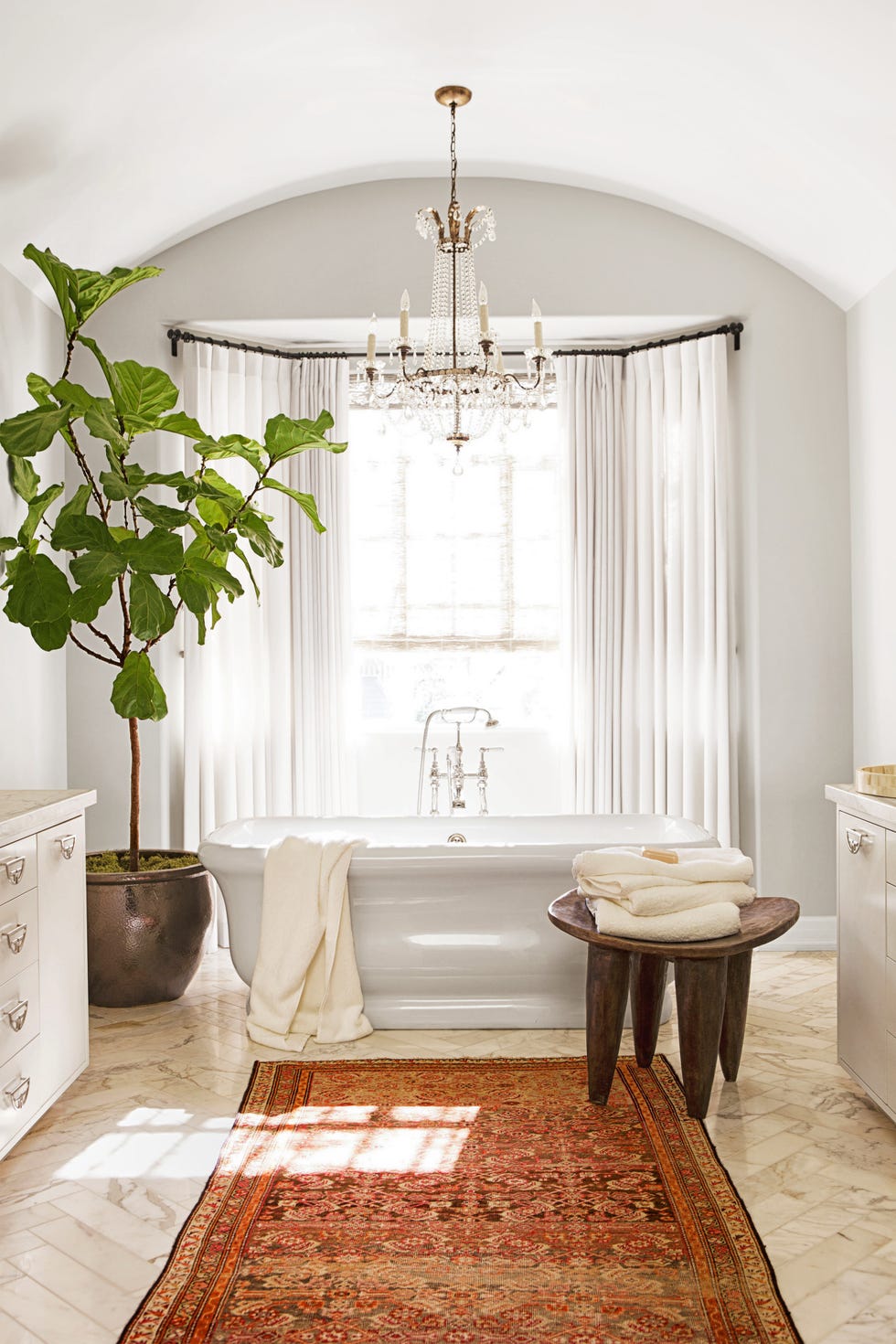 Trough-Style Sink
Bring the trough inside with this inspired idea, and get ready for all the farmhouse chic vibes! No, it's not an actual trough—it's just got a similar look.
Get an Indoor Tree
Add a tree in the corner for a low-lift up0date that has a ton of transformative power. As seen in this bathroom designed by 2LG Studio, the palm leaf tree truly brings it to life.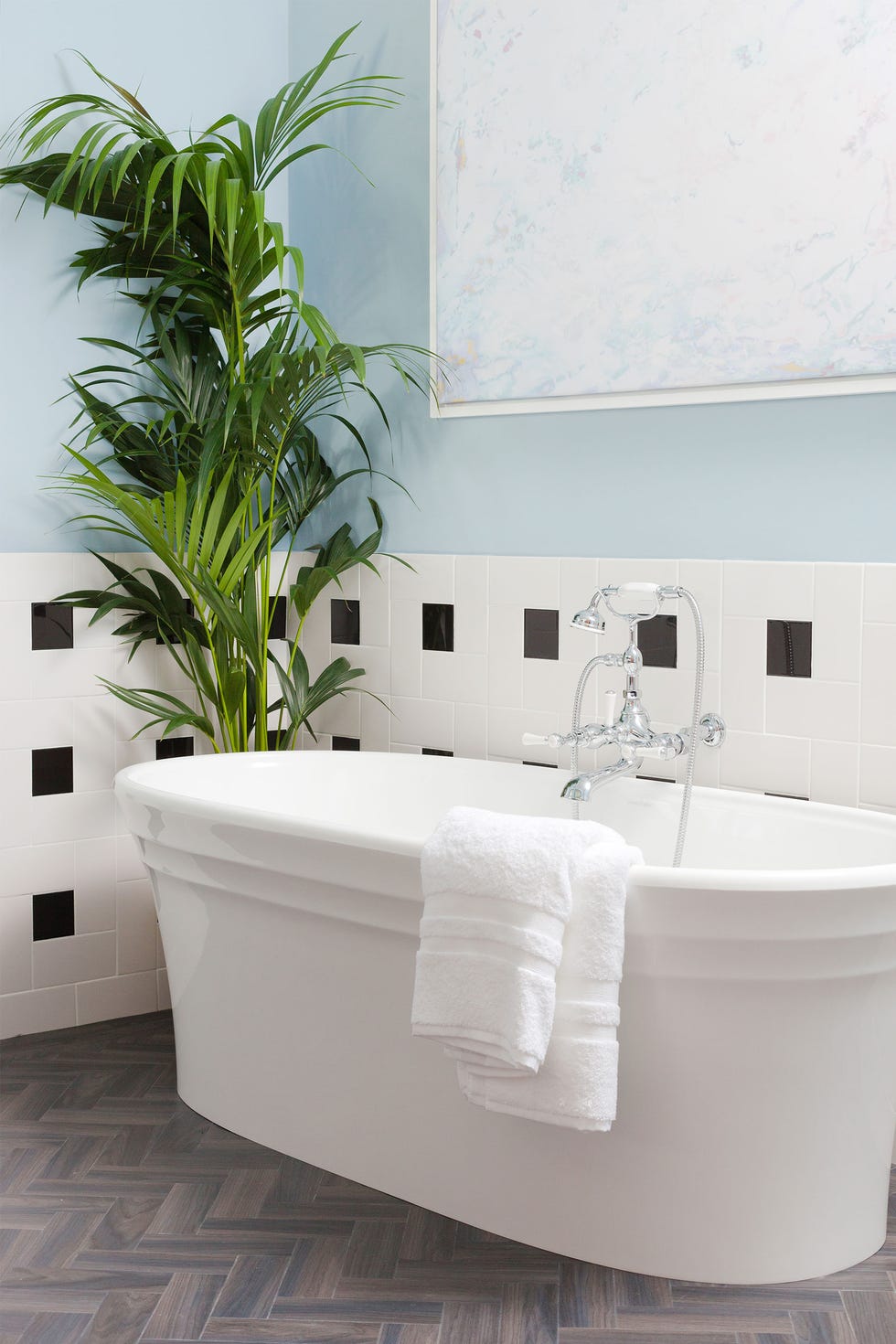 Old-School Details
Buck the trend with an antique-filled room. Here, muted colors and mahogany stains get the job done.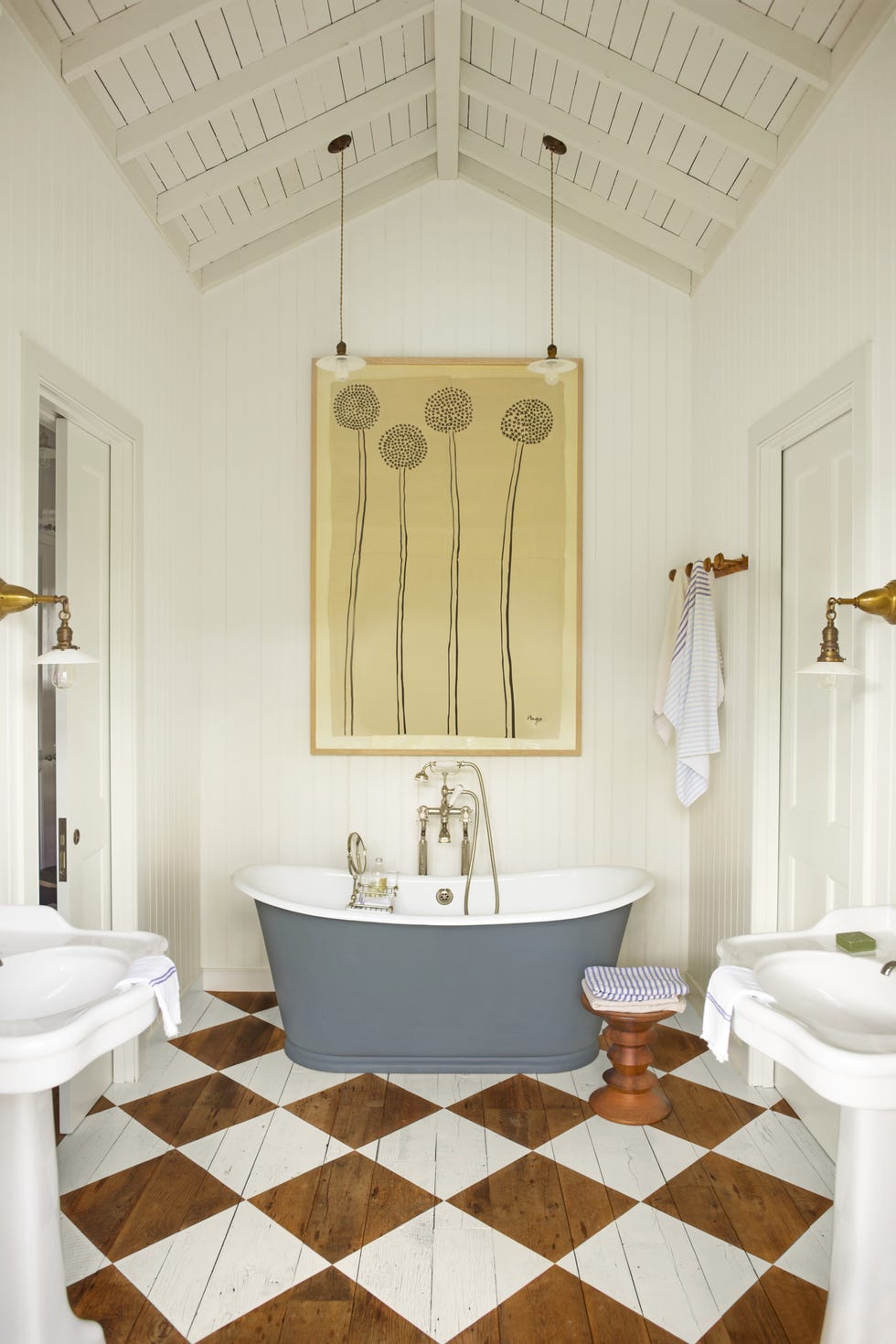 Choose a Colorful Rug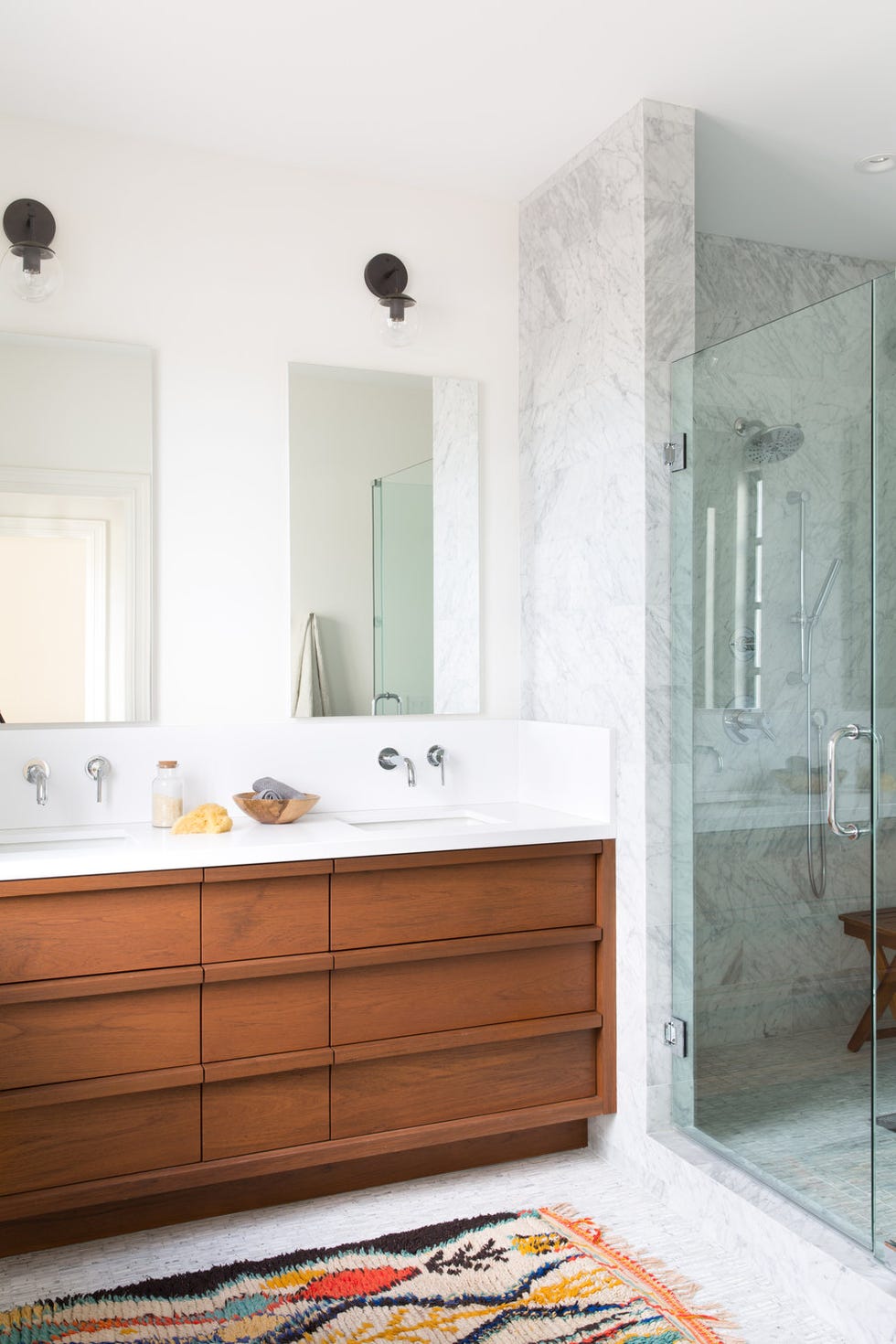 One of the only ways to bring warmth into a bathroom with affordable decor is an area rug. It's also a fun way to add color, print, and texture. The fringe and pops of neon featured in this mostly-marble bathroom by Regan Baker Design is the perfect case study. A bath mat will do, too.
Exposed Bulbs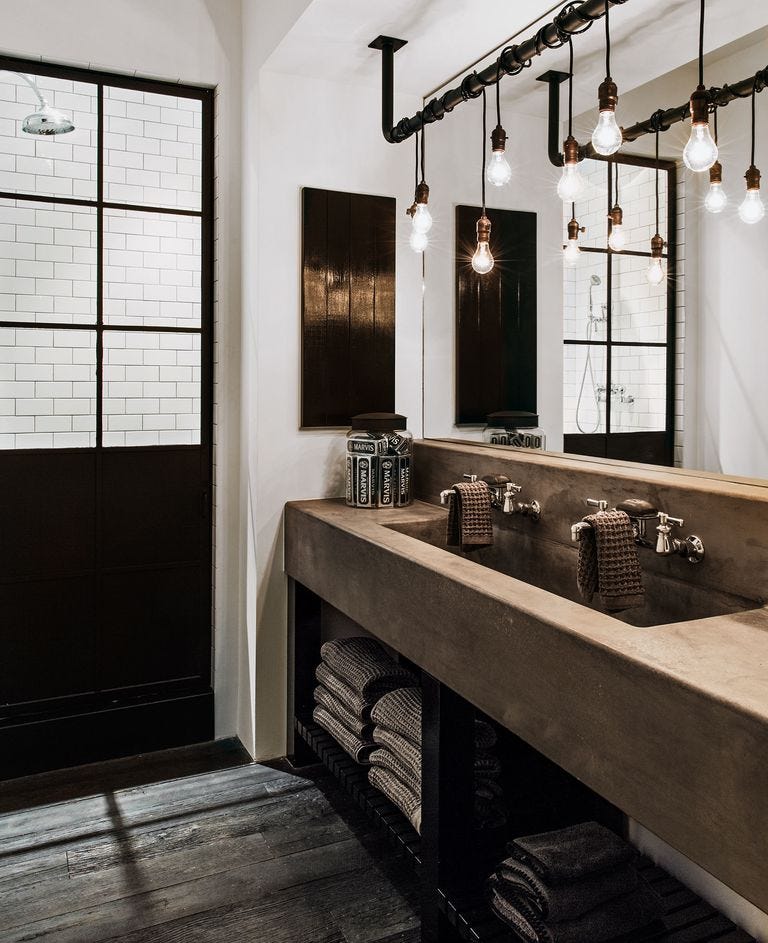 Diane Keaton's luxurious bathroom features a beautiful lighting piece that illuminates the room.
Add Something Metallic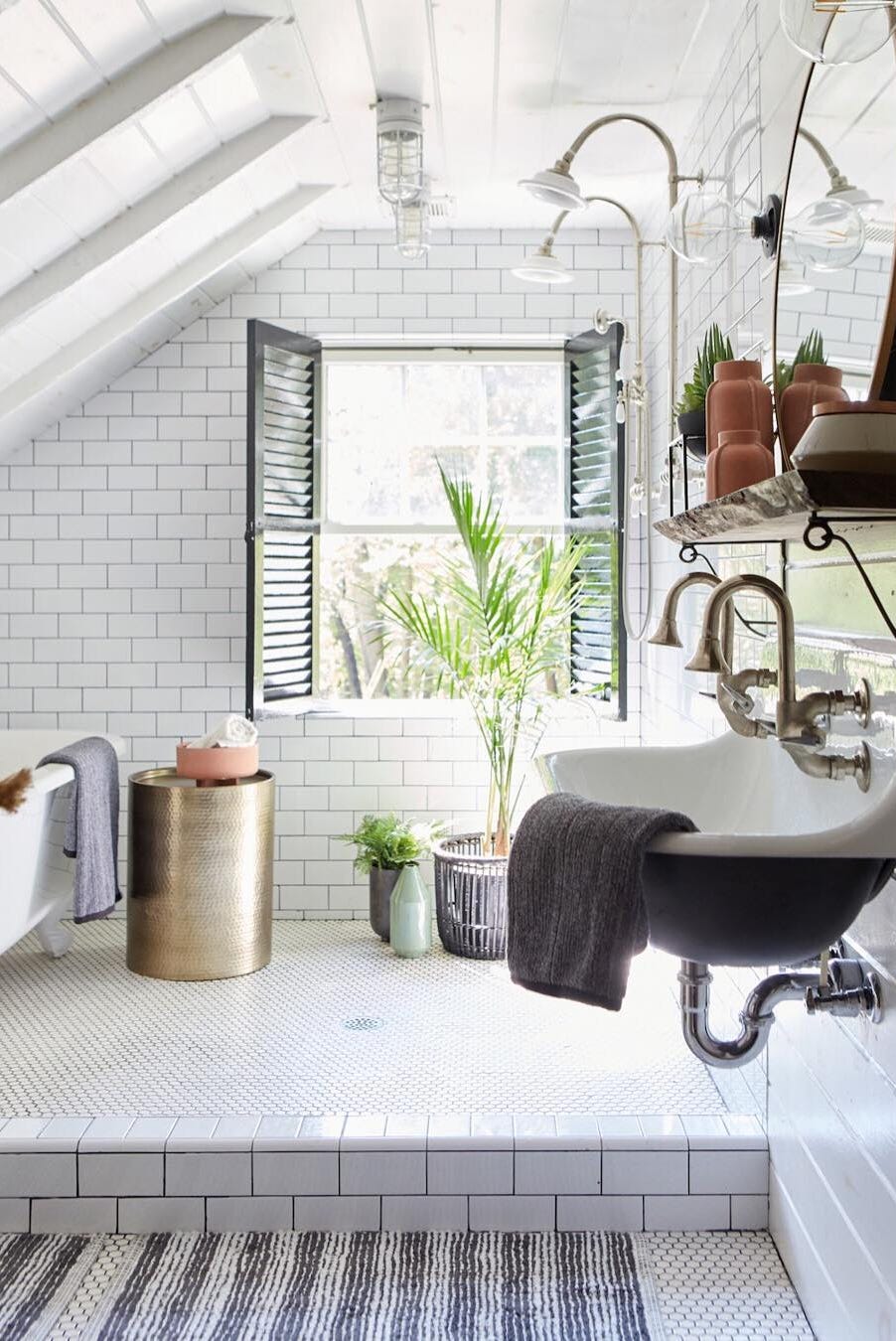 Adding a dash of metallic can make the bathroom feel a little fancier and more polished. Even something as nondescript as a catch-all or soap dish will do the trick, but we're partial that round stool in Leanne Ford's bathroom.
Riot of Color
Bath time gets infinitely more fun with artwork this colorful nearby. The riot of colors is a great jumping-off point for bright accessories to be added to the space.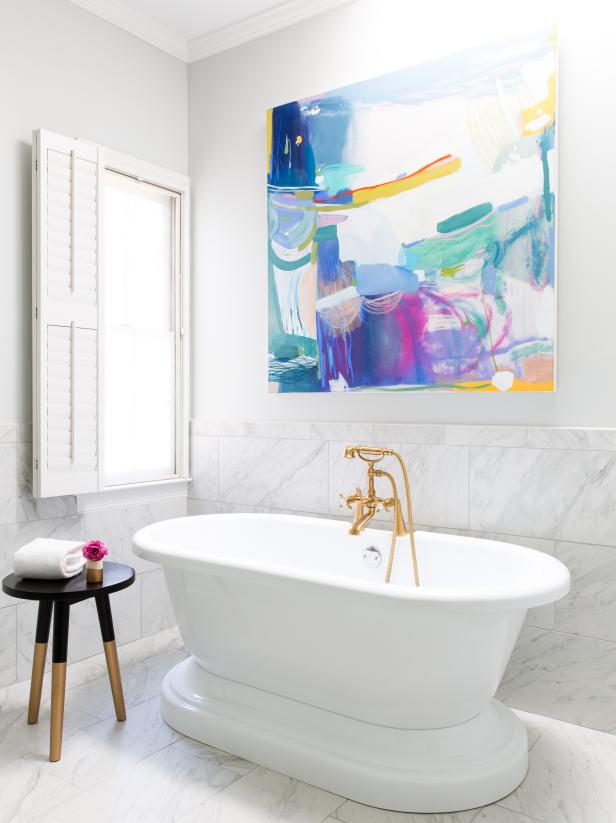 Display a Robe
Even something as simple as hanging a robe can make all the difference. As seen in this Arent & Pyke designed bathroom, it makes the space feel more lived in. The small Art Deco area rug also plays up the blue tones throughout while introducing pattern and a pop of coral.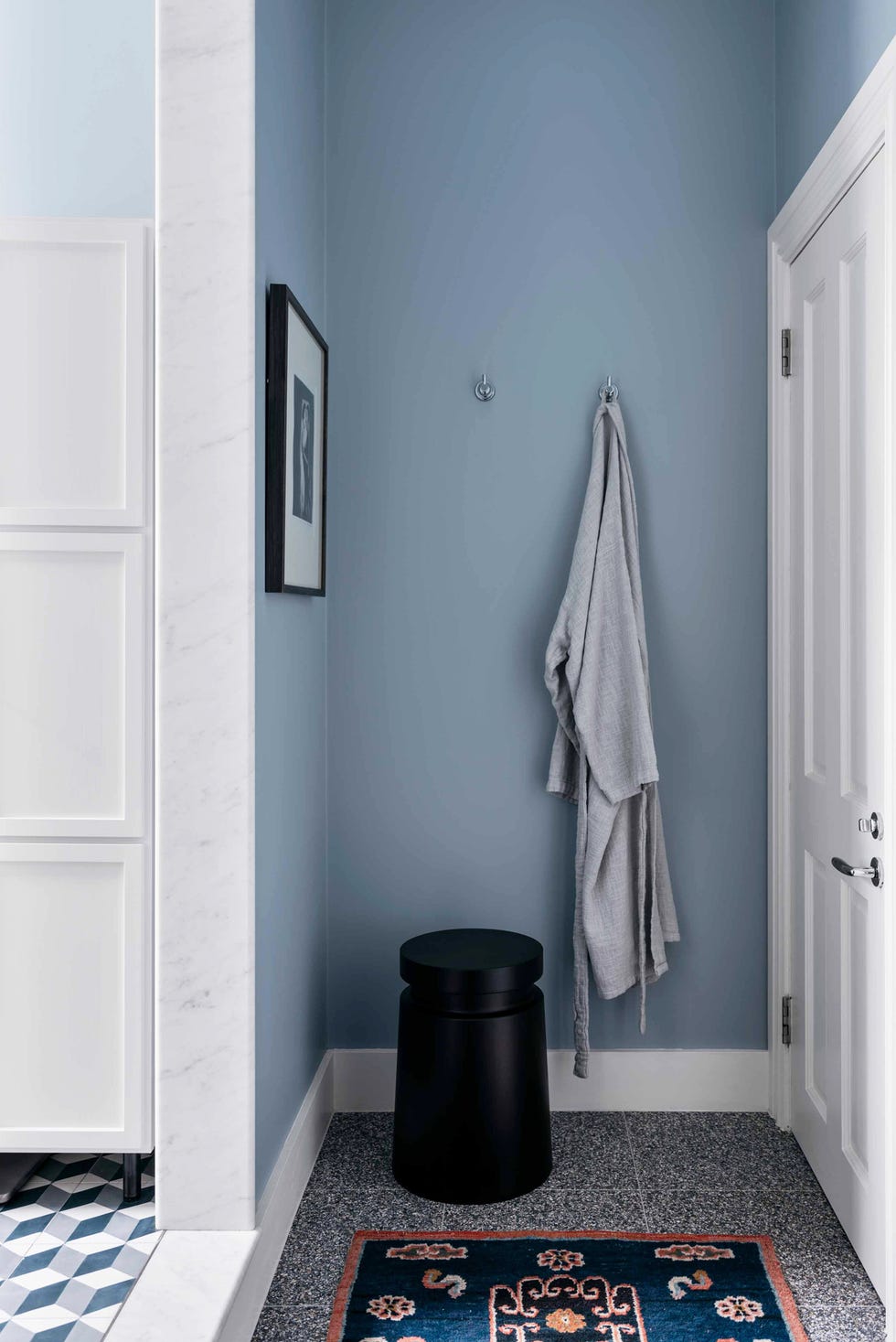 Smart Organizers
A great way to keep a small bathroom tiddy is by using a few baskets and trays to organize supplies and toiletries. Place them in you bathroom's cabinets or install a few hanging shelves.
Silver Accents
Silver fixtures and a silver mirror coordinate with the all-white bathroom for a crisp look.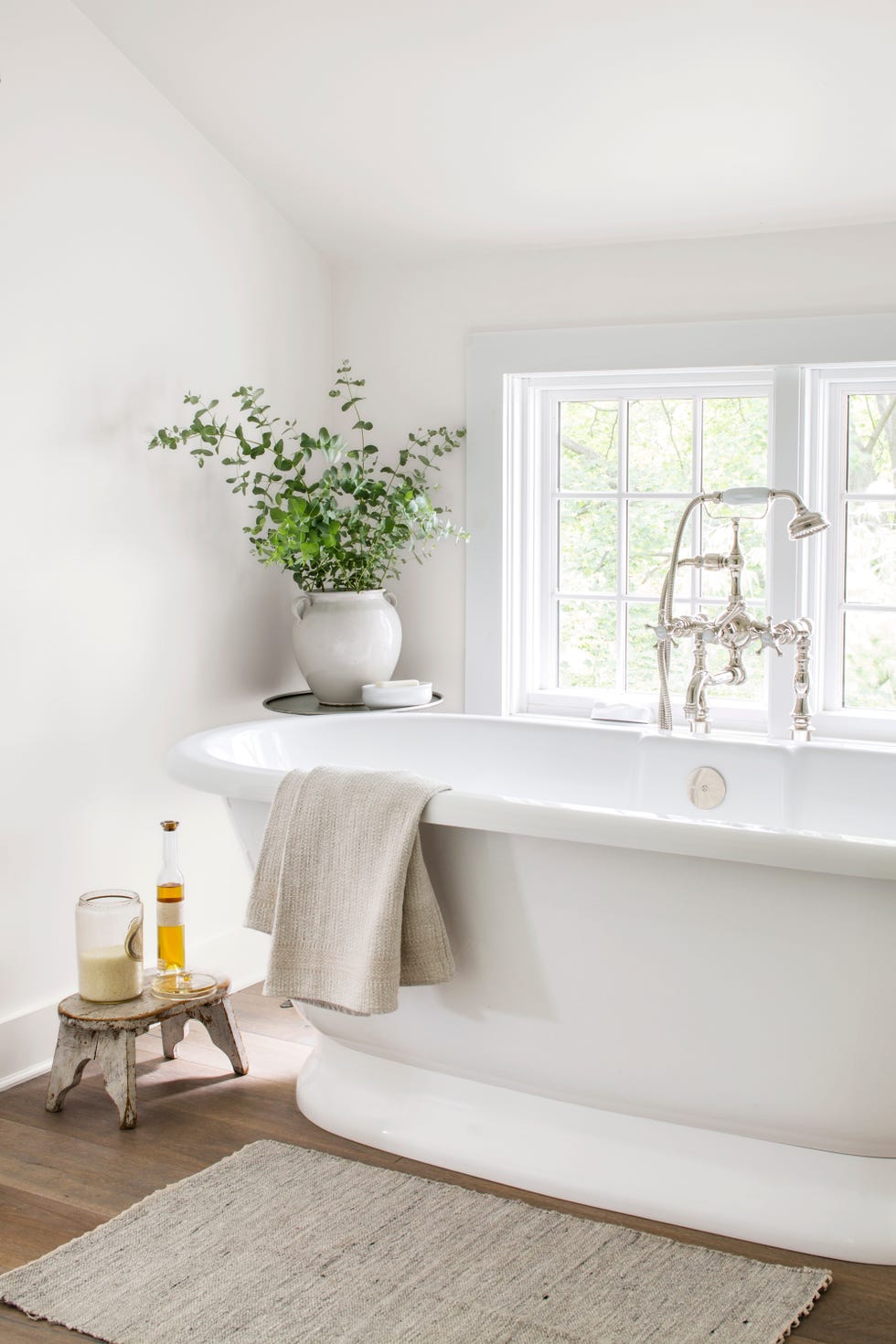 Only Wallpaper Half
Not only is it a good idea to keep wallpaper out of splashing range, but it can also cut your cost in half if you only buy enough for half the square footage. The white tiles in this bathroom designed by Arent & Pyke keep things feeling fresh while the wallpaper adds a little more personality.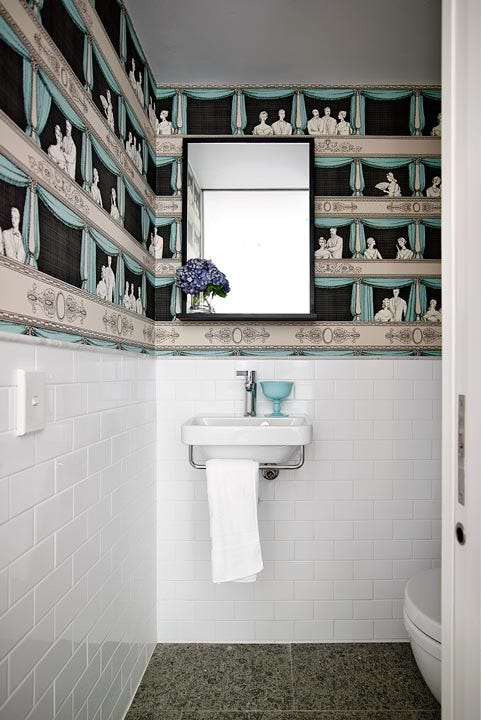 Warm Wooden Touches
Wood-framed mirrors and wood supported vanity add a touch of warm color to the cool and bright look of this white bathroom design. A gray vanity with his and her sinks is accented against the bright backdrop.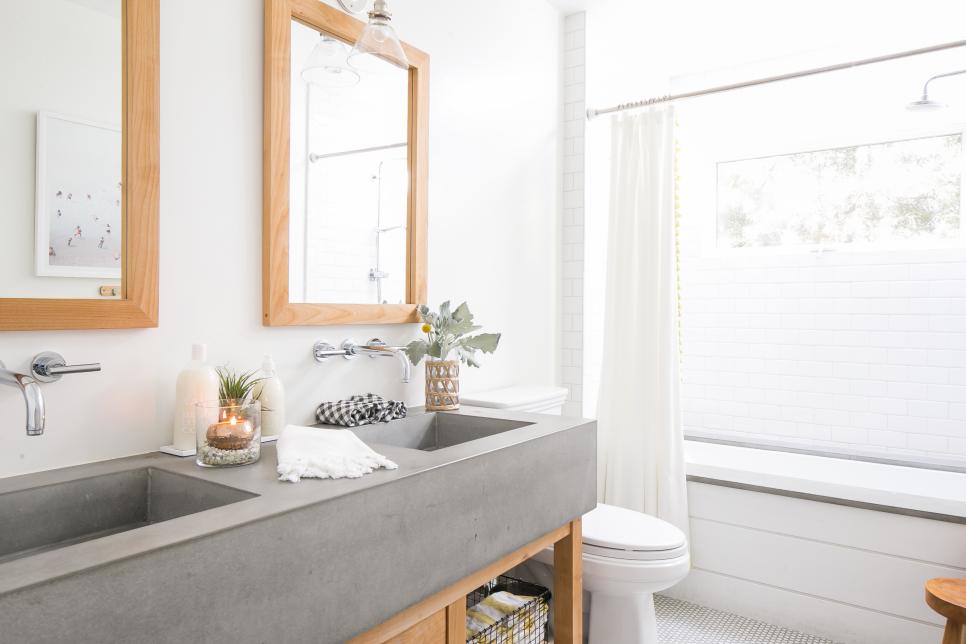 Exposed Brick
The exposed brick wall repurposed metal ceiling, and claw-foot bathtub come together for the ultimate vintage-inspired space in this Tennessee home.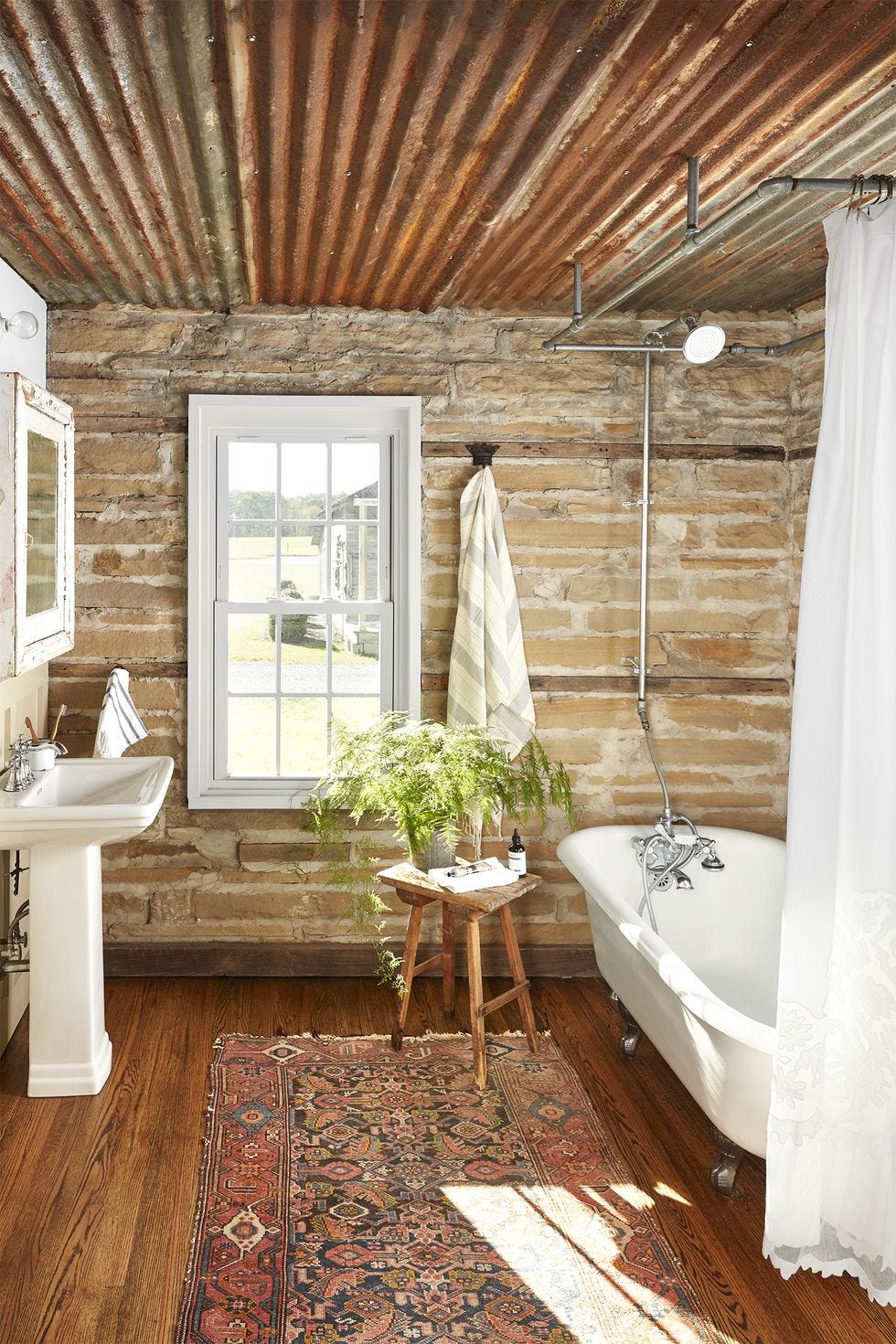 DIY Wallpaper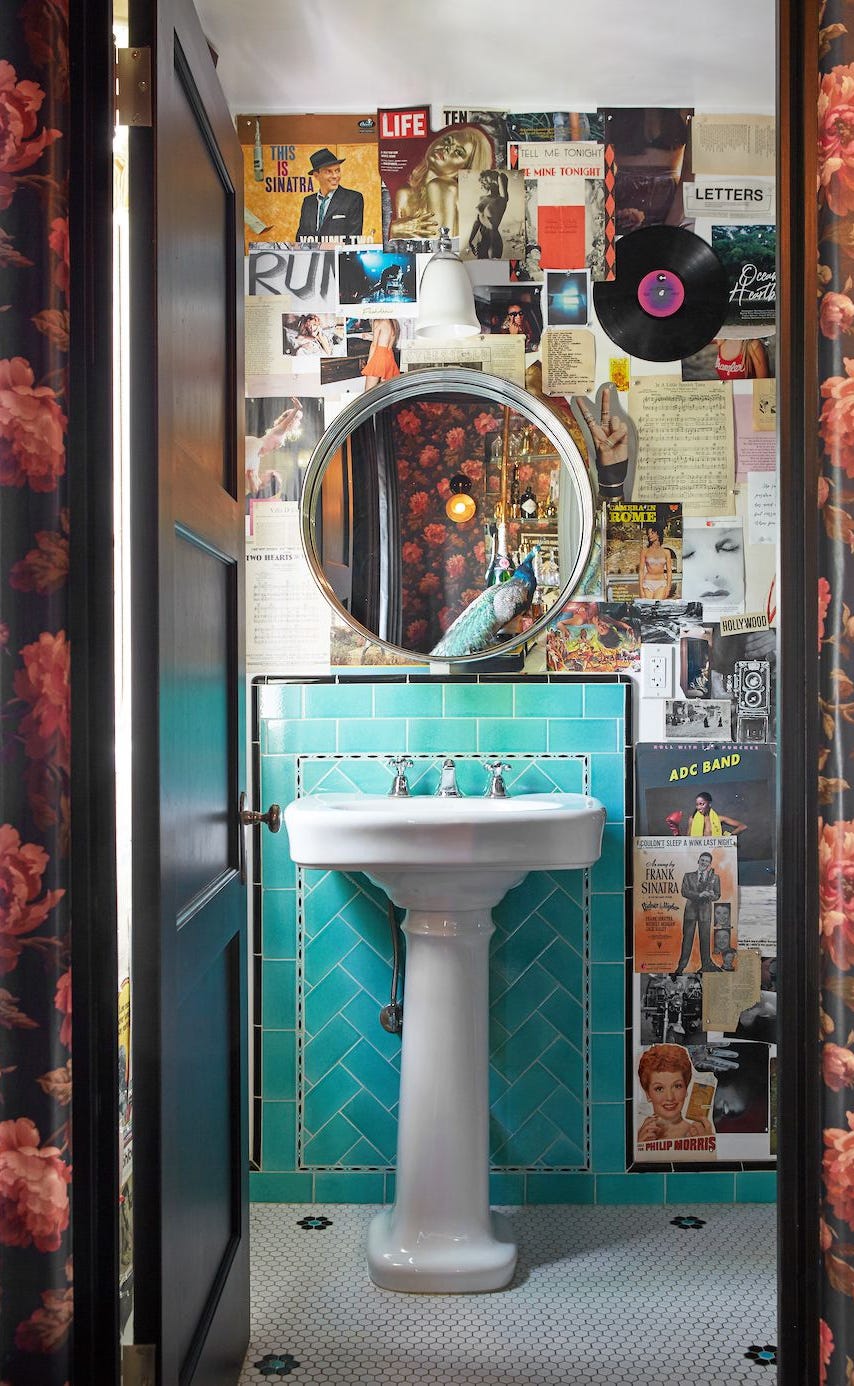 Give your walls some oomph and treat it like a canvas for your collage project. Think vintage ads and magazine articles and a few records for some contrast. In this bathroom designed by Leanne Ford, the vintage magazine scraps play up the retro feel of the tiles.
Bright + Airy
Brass sconces on either side of the mirror add unique, vintage detail to the master bathroom space.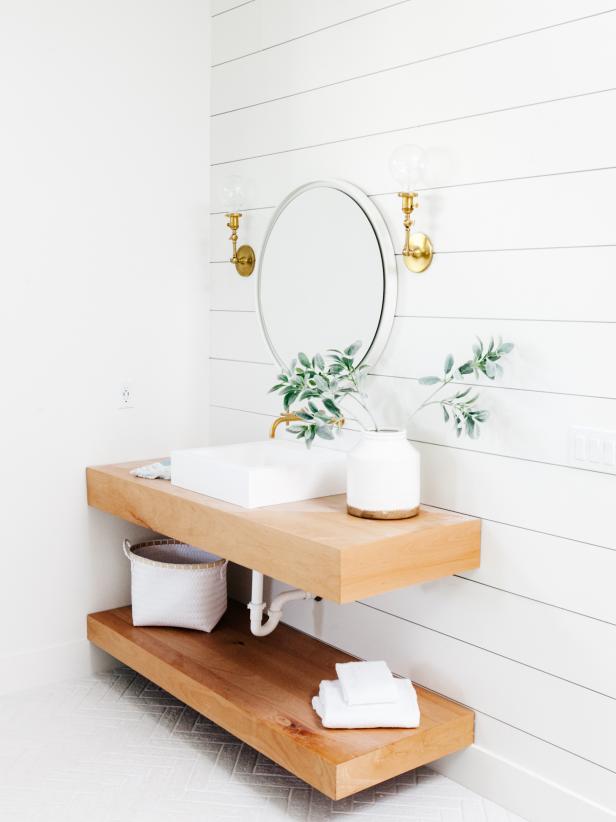 Massive Mirror
A long vertical mirror makes the bathroom in this quaint California house feel quite big.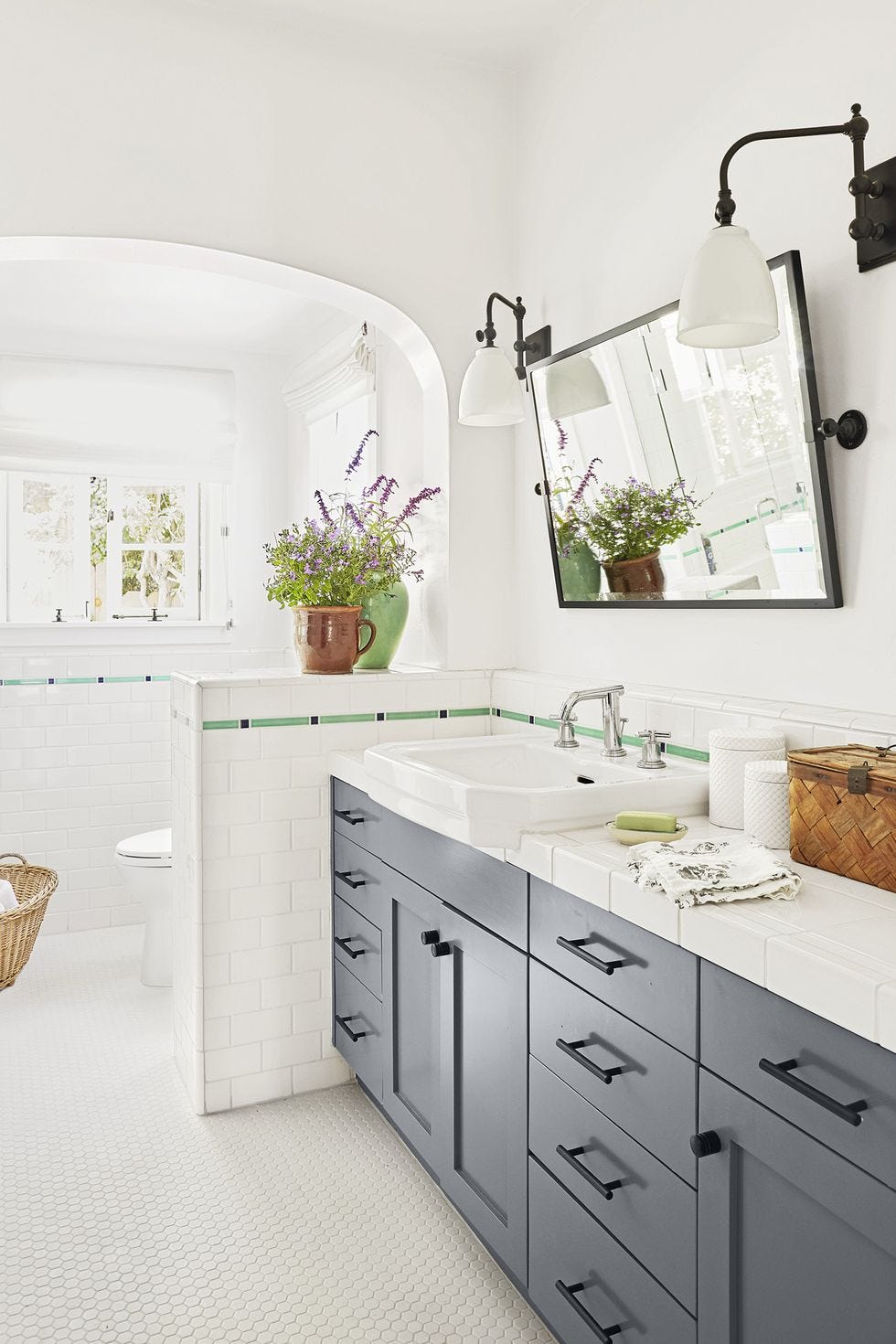 Add a Magazine Holder
A magazine rack and custom linen curtains are both beautiful finishing touches. And the contrast between the hyperrealist, gritty photograph against the classic black and white striped wallpaper and glitzy chandelier create a nice juxtaposition in this Leanne Ford-designed space.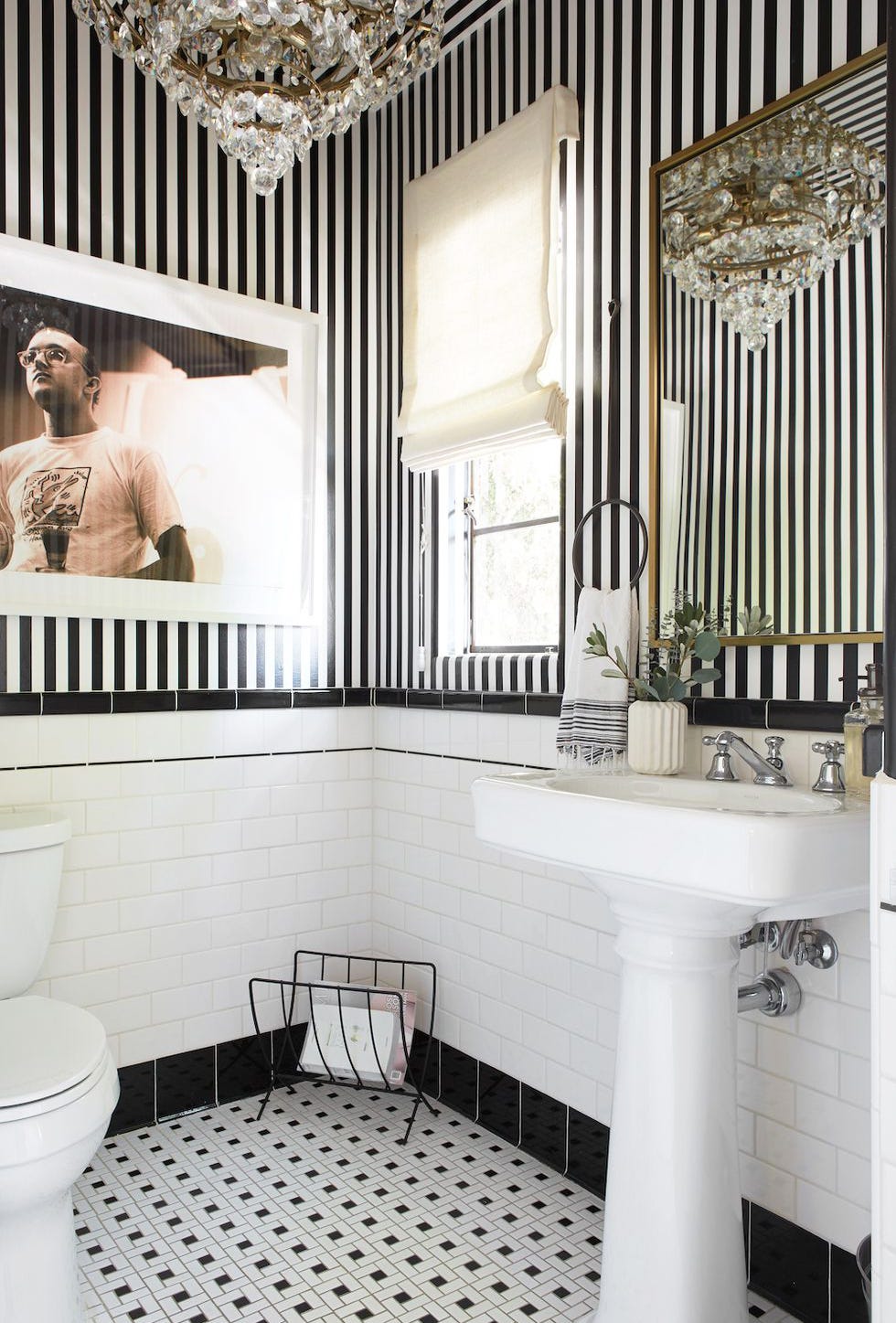 Indoor Oasis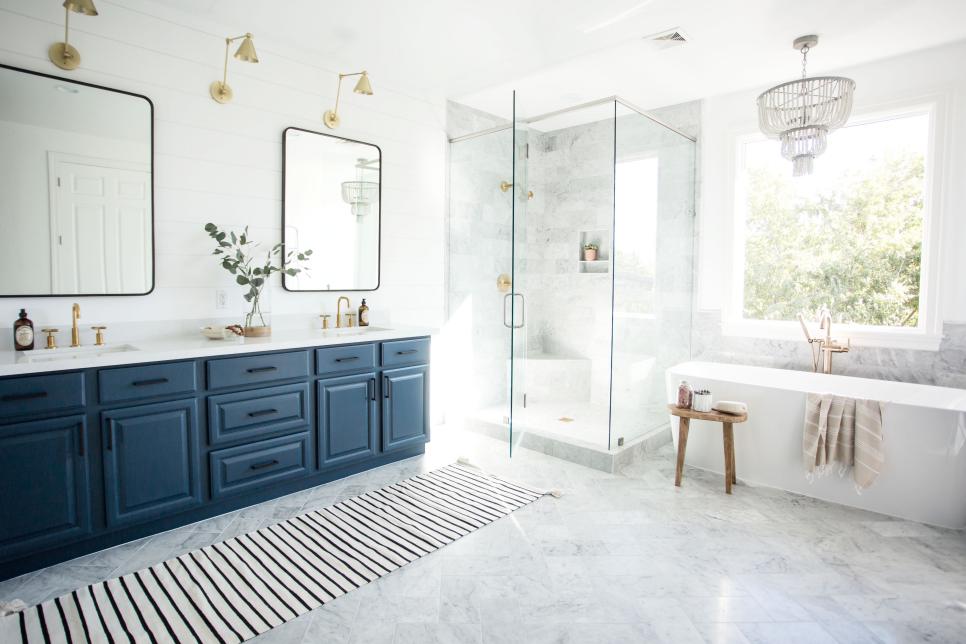 A black-and-white striped runner marches its jaunty way down this spa bathroom, a lively pop in the neutral space. It also pairs handsomely with the navy blue vanity.
Organized Towels
Use your towels as decor by opting for a single color and organizing them neatly on a shelf.
Natural Light
This transitional gray master bathroom features tiled flooring, a white chair rail, a shower with glass door, a gray vanity with glass knobs, a skylight and a freestanding bathtub.